What Is A Watch Winder?
Watch Winder is a device for winding up an automatic watch fully by an electric motor, PCB and a certain controller, avoiding the necessary of manual rewinding and resetting the watch. Keeping a watch running, then it will be in a great condition and ready to wear at any time. A watch winder also can increase the mechanical life of an automatic watch to keep the lubricating oil evenly distributed when you are not wearing your watch for a long time.
Watch winder is used for an automatic or self-winding watch only. Kinetic, quartz and manual-winding watches should not use with a watch winder.

Why Use A Watch Winder?
.Watch winder can provide a convenience of solution to keep your watch ready whenever you want or you don't wear it for a long period..
An automatic watch has an "automatic" or "self-winding" mechanism that needs regular motion to keep the spring constantly powered. Generally, this kind watches must be hand wound every 2 or 3 days (depending on the model). This rotary motion can be usually generated by the user's wrist movement through an arc of 30 to 60 degrees. As long as the watch is worn, the spring keeps wound to store abundant power. When the watch isn't worn, within 48-72 hours the spring will totally unwind and the watch will stop.
Nowadays, many automatic watches provide not only the time, but also other more functions, such as day, month, year, world time zones, etc. More functions, more spring power. When the watch stops, it must be manually rewound and reset. But frequently rewinding and resetting the watch could cause harm to the mechanism and functionality of the watch.
Sometime automatic watches owners have several watches. Obviously, it is a challenge to keep all watches continuously wound. That's why more and more watch lovers and collectors use watch winders to keep their precious watches!
.Watch winder can increase the mechanical life of an automatic watch and reduce the consumption of the watch crown!.
A watch winder can help distribute the lubricating oil inside the watch evenly most of the times. When a watch spring unwinds and stops, the oil will be easy to settle and clot or coagulate day by day. When the watch runs again, the certain moving parts not being properly lubricated will increase the friction and pressure. At the result, the mechanical life of the watch could be shortened and the watch will be damaged. But watch winder serves to make the lubricating oil evenly and smoothly distributed to avoid this harm. Furthermore, as mentioned above, it could also reduce consumption of the watch crown system.
When your automatic watch isn't gracing your wrist, you need a place to store this watch to keep it safe and running correctly, that is why a watch winder is necessary. Here are the top reasons that you should invest in a watch winder for your automatic watches:

A watch winder keeps your automatic watch wound when not being worn. Most watches will stop running within 2-3 days of not being worn.

A watch winder mimics the movement of your wrist, which is the optimal way to wind automatic watches.

A watch winder doesn't place the same level of stress on the watch that it would experience but constant manual winding.

A watch winder will pay for itself wound over time in the amount; it could save the owner in time and energy.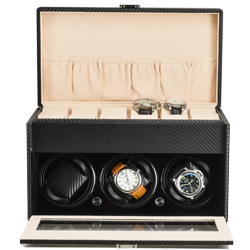 When watches with perpetual calendars or moon phases stop running, it is very complicated to reset on a regular basis.
Winding your watch keeps the inside lubricants flowing and prevents the oil from congealing, that will keep the watch running.
Watch winders allow you to have different multiple automatic watches ready to be worn at any time.

A lot of watch collectors go into the high-end watches. Improper manual winding and storage can lead to unnecessary spending thousands on repairs.
How Does A Watch Winder Work?
Watch winder is designed to imitate the motion of an automatic watch being worn on a wrist. At a certain angle, the watch is rotated circularly that could transfer the kinetic energy into stored mechanical energy in order to keep the watch running. Naturally, the motion of watch user's wrist is not continuous. That's why the watch winder is designed to rotate intermittently, in case the watch is over-stressing. However, not every body realizes this important point; the unprofessional watch winders will keep your expensive watch at risk.


Zoser Watch Winder provides a professional and safe design for your automatic watches. It is used an integrated circuit which controls the winding action – to instruct a motor to drive a rotating turntable which is held a watch, also controls the consumption of electric power to a low level. It is programmed to rotate for 1 or 2 minutes and then "sleeps" which period the user can set based on the watch mechanism. Generally, the sleep period determines turns per day (TPD) of 650, 750, 850, 1000, and 1950. It makes sure to generate sufficient energy to keep the watch running, meanwhile to prevent any chance of over-stressing.
Zoser watch winders also have several special additional functions which are humanization designed to satisfy all different watch lovers and collectors requests:
Rotation Directions 3 different directions operations for your choice. It could fulfill all automatic watches requirements by clockwise, counter-clockwise and clockwise + counter-clockwise.
LED Light White color LED light with lampshade. It will make your watch winder inside bright and easy to operate.
Instant-Stop Function When the fronted door is open, all of the rotors stop turning automatically; when the door is closed, rotors continue turning. You can change the watches without interrupting the winding cycle.
Remote Controller You even don't need to touch the controller inside the winder to operate your winder, just by the remote controller, all operation can be done.
Rotor Aligned Function The rotors are automatically aligned vertically when the winder is paused working.
For the further technical information of watch winder, please contact Zoser team at [email protected] without any hesitation!
Watch Winder Operation Instruction
Step 1

Place your watches on cushions/pillows/watch holders of the watch winder;

Step 2

Plug in the watch winder adapter and turn on the power button;

Step 3

Select rotating directions and TPD programs of the turntables with the controllers;

Step 4

Select the additional functions you may need for the winder.
Notice:
Please contact your watch manufacturer or retailer for turns per day and rotating direction requirement for your watch.
Please make sure A/C connection is out if you don't use the watch winder over an extended period.
Application temperature for the winder usage is during 0℃ – 40℃.
Keep the watch winder far away from the high magnetic object.
Do not place or remove watches from the watch winder turntables when they are winding.
What Is The Correct Watch Winder Setting?
Generally, different type automatic watches have different rotating directions (clockwise/counter-clockwise/clockwise + counter-clockwise) and TPD (650~1950) requirements, Zoser watch winders programs are well designed to adapt this basic requirements.
But if you wouldn't like to test the setting on your automatic watch one by one or if you wish to set a more specific program, we suggest that you should contact your watch retailer or the watch manufacturer to confirm its specific requirements.
Can A Watch Be Over-Wound By A Watch Winder?
No, it can't be impossible. Now almost automatic watches have a slipping mechanism that would disengage the winding mechanism while the spring is fully wound. So over-winding should not be a problem. However, it still should be a concern. When a watch winder keeps an automatic watch winding continuously without any stops or rest, the stress comes out finally. That could reduce the usage life of a watch movement. That's why a great designed automatic watch winder with proper electronic programs is very important. Zoser watch winders just can meet all needs for an automatic watch.